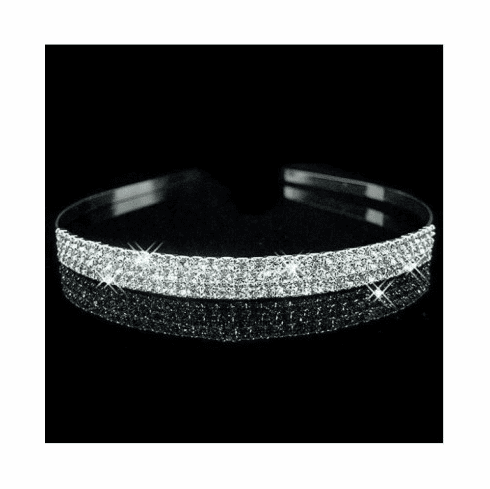 Sinead Headband Rhinestone Crystal Headband
Product Details
This Sinead Headband is designed with a silver-toned frame that sleek and polished, offering a great base for a brilliant design.
Both the gorgeous design and shine of this Sinead Headband will not go unnoticed! Decorating this piece is a simple yet radiant design that consists of layers of stacked clear crystal rhinestones.
This headband measures 1 centimeter in diameter, an optimal size that will accommodate a variety of head shapes and sizes.
This headband is not only darling but also comfortable, as it is designed with tapered ends, which are great for all-day wear.
Made with top quality, this lovely Sinead Headband is made by Antonio Pacelli, a wonderful brand that has been making Irish dance shoes and accessories for over 40 years and is based in England.
For a classic but flashy way to stand out in style at your next Irish dance performance, accessorize your look with this Sinead Headband! Simple yet striking, this piece is designed in a silver-toned metal frame that boasts a natural shine and sophistication. Adorning this headband is a lovely stacked design featuring rows of clear crystal rhinestones that gleam with impeccable brilliance. Rhinestones are named for the River Rhine in Austria, where beautiful rock crystals were discovered years ago. Clear crystal rhinestones are particularly popular for their brilliant white glow, which comes from the silver-toned foil or metal that lines the back of clear rhinestones and can be seen through the front stone facets as they wonderfully reflect sparkling light. Spanning 1 centimeter in diameter, this headband comes in a size that will fit a range of head shapes and sizes. It is also finished off with sleek, tapered ends that provide comfort. Stand out in elegant, radiant style at your next Irish dance concert with this Sinead Headband!