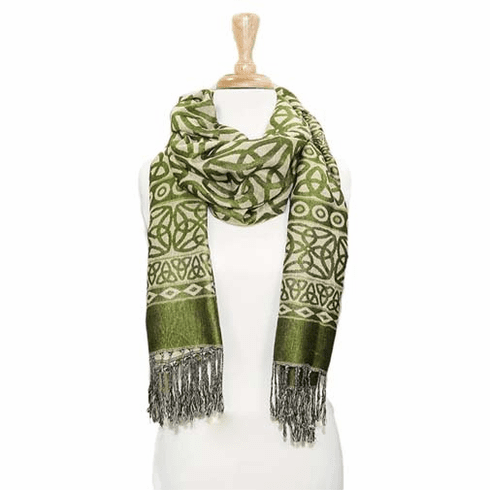 Women Celtic Trinity Knot Pashmina Scarf - Light Green
Product Details
The perfect scarf for any elegant lady should be attentively designed and crafted and our Light Green Trinity Knot Scarf has it all! It is skilfully manufactured from 100% viscose, a soft, smooth, and long-lasting material that will make this scarf an ideal addition to your accessory collection. The fringe ends add beautiful movement effects and will surely make you feel sophisticated.

This 28 inches-wide and 70 inches-long scarf can be worn in a variety of styles: draped over the shoulders, around the neck, or elegantly placed on your head. What makes this piece truly unique is its culturally-inspired design. Celtic Trinity knots adorn the scarf, making it a beautiful representation of hope and faith.

The three looped knots symbolize the Holy Trinity in Irish culture. This lovely Irish scarf makes the perfect present for yourself or the special lady in your life, as it greatly combines cultural authenticity and elegance!